Todd S. Abplanalp
Kansas City Bankruptcy Attorney Profile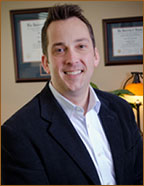 Attorney Todd Abplanalp has spent more than a decade representing a wide variety of clients, with a focus on creating cost-effective solutions to financial issues. After practicing at a well-respected Kansas City law firm, Todd chose to create Consumer Law KC, LLC to help real people with their legal and financial challenges. Todd's practice is now almost solely dedicated to individual bankruptcy. As the head of a smaller law firm, Todd is able to provide reliable and affordable legal services while concentrating on strong client service and personalized attention.
He has filed hundreds of bankruptcy cases for clients all over the metro area and has the experience to get your case handled quickly and effectively. Todd received his Juris Doctorate and Master's Degrees in 2003, and his Bachelor's Degree in 1999, all from the University of Kansas. As someone who is committed to the Kansas City metropolitan community, Todd spends a great deal of his free time volunteering for local charitable organizations. He sits on the Board of Directors of the Hispanic Economic Development Corporation and chairs the Board of Directors of his local non-profit fraternity chapter. Todd graduated from the Greater Kansas City Chamber of Commerce's civic leadership organization, called Centurions, in 2009, and through that organization has been able to volunteer for organizations like Operation Breakthrough, Project Uplift, the Ronald McDonald House, American Cancer Society's Hope Lodge, and Harvesters, to name a few. Todd also has extensive pro bono experience representing families before the Family Court in Jackson County, Missouri.
Todd is admitted to practice in all of the state and federal courts in Missouri and Kansas. Initial consultations are always free, so please don't hesitate to call Todd at (816) 434-7300 for personalized attention, prompt service and highly competitive rates.
Contact Attorney Todd Abplanalp
Set up a FREE CONSULTATION
CONTACT US
Consumer Law KC, LLC Law Office of Todd S. Abplanalp 1308 NE Windsor Drive Lee's Summit, MO 64086
P: 816.434.7300
F: 816.875.2388
*All emails are confidential and go directly to the attorney ONLY.
We are an experienced law firm focusing on bankruptcy matters for regular people.